I'm in the
top three
. Should I be proud, or dismayed?
Found
this
today when I was making vacation recommendations to a friend. Is it any surprise that I love that place? Been there twice.
And I just got a lovely package from
Andrea, of A Peek Inside The Fish Bowl
, giving me more reasons to adore her! Also, because in a wonderful example of synchronicity, she posted about Intestine Boy today! It's EERIE.
She chose some awesome gifties. I tore them all open, and immediately had to go through all of the cards to find my favourites. And I had to wrestle the chick (and I want to know more about that gorgeous chick) away from Josie, and I had to read her the vegetable stories right away. One of my favourites? Bing. It is a really thoughtful assortment - it shows me that she saw into who Josie and I are, and what we love - things for our hair, charmingly illustrated things, things to do together, and my first artist trading card - inpiration for me to make more, I think. Andrea's gift, as well as her self, exhude charm, which is a quality I find sadly lacking in today's world. It's one of the reasons I like quirky vintage things, and the quirky people that like them too.
Andrea, was kind enough to do a meme for me. I'd been tagged for the Fives by
Nancy
and the Fridge by
Sharon
, but was feeling uninspired. So when the Fish family visited the other week, I asked if Andea'd do the Fives Meme instead of me. Now that she has, I can riff on it, so that makes it more fun for me! It's always interesting to find out what others see, because apparently, I worry about all of the wrong things.
The Fridge Meme: The Picture:
And I asked her to do the Fives Meme for me, which seems tangential to the Fridge Meme. Her results are
here
, but I must elaborate:
Five things in Marla's fridge:
She could have said: frost, slime, crumbs and boring food. I am grateful. And I like Miracle Whip - it's tangy. Every day in fourth grade, I had a Miracle Whip, Swiss cheese and Wonder Bread sandwich. With mayo instead, it would be a boring mushy sandwich. Miracle Whip adds the ZIP. I would eat one right now if I had one.
Five things in Marla's closet:
The rolls of toilet paper are because of
a particular incident in my past
. And the tall black boots? They are leftover from a "Naughty Santa's Helper" costume from one of the Country Sundays at the Cadillac Lounge that Steve used to produce - hmmm, that one was about four years ago. They were from the porno shoe store at Gerrard Square, a buy-one-pair-get-two pair-free-deal. Thankfully, said costume wasn't in that closet too, or I'd have been pressed for an instant explanation, I'm sure. Or she wouldn't have said anything and would forever wonder, which would be worse. And yet, I can't get rid of either of those items. What does that say?
Five things in Marla's car:
Yes, it is a boring car. But (sigh) it's paid for, and reliable, which allows me to have other interesting things elsewhere in my life. The best thing about it? Used to be the back seat folded down so we could fit everything from Steve's stand-up bass to fantastic estate sale finds in there. Now with the car seat? It doesn't fold down any more, and the only benefit is that it's ugly and empty which works for theft-prevention. The vomit stains are oxy-proof. Any advice for getting barf stains off of child-seat restraining belts? The heat from the closed car seems to have baked them in. And the cassette tapes are there so that vandals know we don't have a CD player in the car - but that Honky Tonk tape was one of the first compilation tapes Steve ever made for me, about ten years ago. Good tonkin' tunes to warble along to on road trips. I mean, these days, guy who loves you might load your I-Pod for you, or burn a mix CD even; but there is something about a compilation tape that says "I Love You" like nothing else can. Also, it has the Derailer's version of Harlan Howard's "I Don't Believe I'll Fall In Love Today" on it twice in a row, because I always want to hear it again. That, people, is LOVE.
Five things in Marla's purse (which Andrea was kind enough not to refer to as a diaper bag):
Sadly, uninteresting too, and as in the fridge and car sections, she could have added crumbs and slime. Usually there are small plastic farm animals that tumble around and end up in weird postions in there too, but really, there's never much fun stuff in there any more. Sigh. Hopefully she did glimpse the funky card holder, a gift from her from the holiday exchange, which I use and love.
Which brings me to more fun and funky things: flea market finds from this weekend. Stuff that having a paid-for car allows me to drop some loose change on: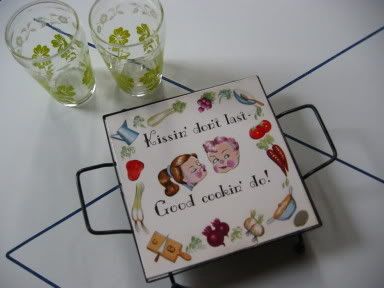 (The couple on this trivet doesn't look unlike me and Steve. I'll have to work on disproving that saying!)
And
Odd Mix's Weekend Words Challenge
this week? Beauty and Beholder.
I am so lucky and proud to have such a beautiful daughter. She is such a wonderful thing to rest my eyes on - and it's not just her face. It's the shape of her arm. It's the way her hands move. The way her hair flies. And I love my garden, where we ate the gooseberries that have taken years to grow. Yes the, because after three years of growing this damn plant, there were only two frigging gooseberries on it. My tomatoes are growing. Slowly. But I look around, at my house, my life and my family, and there is beauty everywhere. So here are various glimpses of the beauties I saw this weekend, and then there is me, the beholder, trying to remember that my mind's eye is the best way to capture a moment, though it seems the camera is ever-present, thankfully capturing things I never want to forget.